The directory tab allows you to see all of the identities. More details are in the following sections.
Directory Filters
Directory tab contains eight filters to filter the identities and a search field:
Search - Search field is used to search identities by name
Labels - You can filter detected people by groups you added.
Locations - You can filter detected people by the location they were sighted in.
Gender - You can filter the detected people by gender.
Age - You can filter the detected people by age. Age can be typed in or you can use the slider to set the age.
Status - You can filter detected people by status.
Flags - You can filter detected people by flags.
NOTE: Only the Saved Views filter group has the + sign that is used to add a new Saved Views.

Figure 1 – Directory filters
Saved Views in Directory
Saved views inside the Directory section are made with the purpose of the easier display of previously selected filter checkboxes.
Each saved view created by the user can be found in the Filters bar under "Saved Views"
Updating a filter selection triggers the saved view icon overlay that stays active until the changes are saved or discarded.
To learn more about the Saved Views, visit this article.
Identity details
Clicking the sighting that has an identity in the system, you will open detailed information about that identity.

Figure 2 – Identity details
In the upper right corner of the identity details window you can do the following:
Validate icon
To flag identity
Edit the information, confirm the identity, or delete the identity
Exit the identity details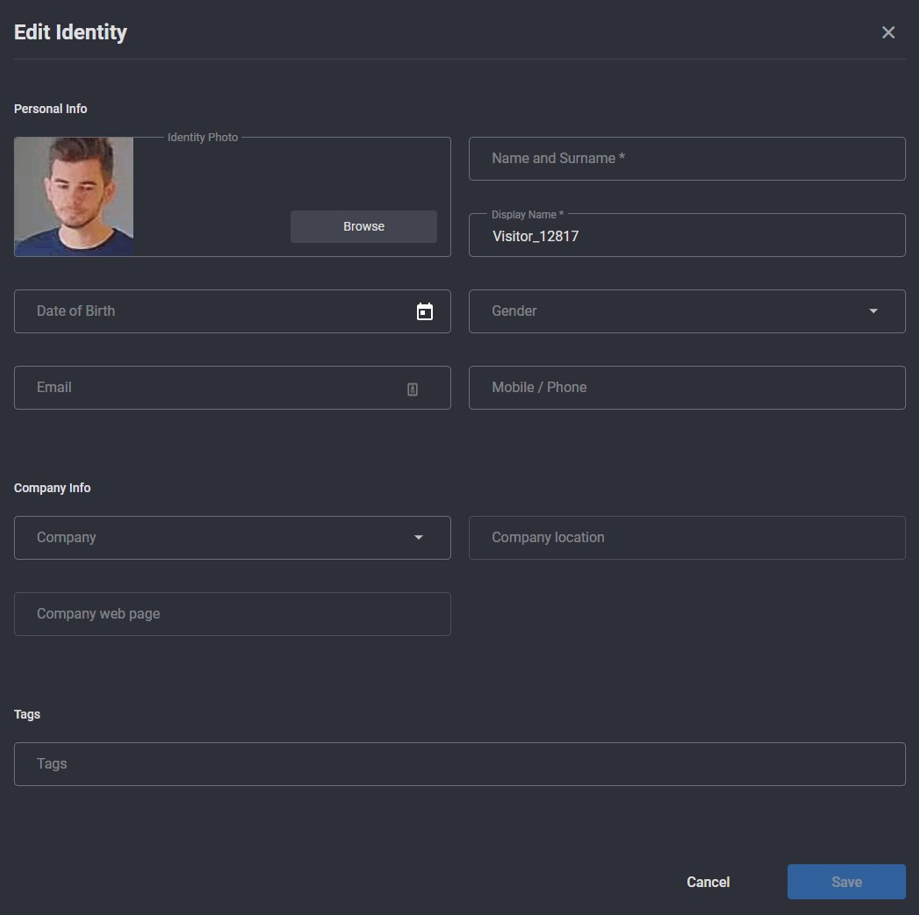 Figure 3 – Identity validation


Identity details contain four tabs: Overview, Sightings, Similar, and Activity
Overview - The Overview tab gives us the possibility to see on which camera a person was sighted last. There is also a list of identities. On the right side, there are two drop-down menus General and Detections:
- General menu contains Identity ID, Display name, age, and Gender predictions
- Detections menu contains the date and Time of the first and last detection, the total number of detections, and a total number of sightings.



Figure 4 – Overview
Sightings - Sightings tab contains all the sightings for the selected identity in the current day.

Figure 5 – Sightings
Similar - Similar tab contains all similar identities to the one you are checking. Similar identities are detections where the system is not 100% sure that the person is in the system but recognizes it as similar to xx identity.

Figure 6 – Similar
Activity - The activity tab contains the graphical representation of the sightings per day in one week period and per day in one month period.

Figure 7 – Activity