Labels in Vision VMS provide a robust method for organizing and managing surveillance cameras across multiple locations. They enable users to filter cameras from various locations at one space level, thus boosting the efficiency of the security system.
Understanding Labels in Vision VMS
Labels in Vision VMS offer a streamlined way to group and manage cameras. Creating a label is done through the Control Panel, and it functions at a space-level setting. This implies that once you've created a label and added cameras to it, the label becomes visible to any user group with access to the cameras within that label. For instance, if a label contains four cameras and a user has access to only one of these cameras, the user will still see the label, but with visibility to only one camera.
Finding the Labels section
Creating a new label in Vision VMS is a straightforward process. Here's a step-by-step guide on how to do it (see Figure 1):
Navigate to the Control Panel, located in the bottom left corner of the starting interface.
Open the General tab in the main navigation bar of the Control Panel.
In the General tab, select the Labels tab in the navigation bar.
Click the sign "+" located in the bottom right corner to create a new label.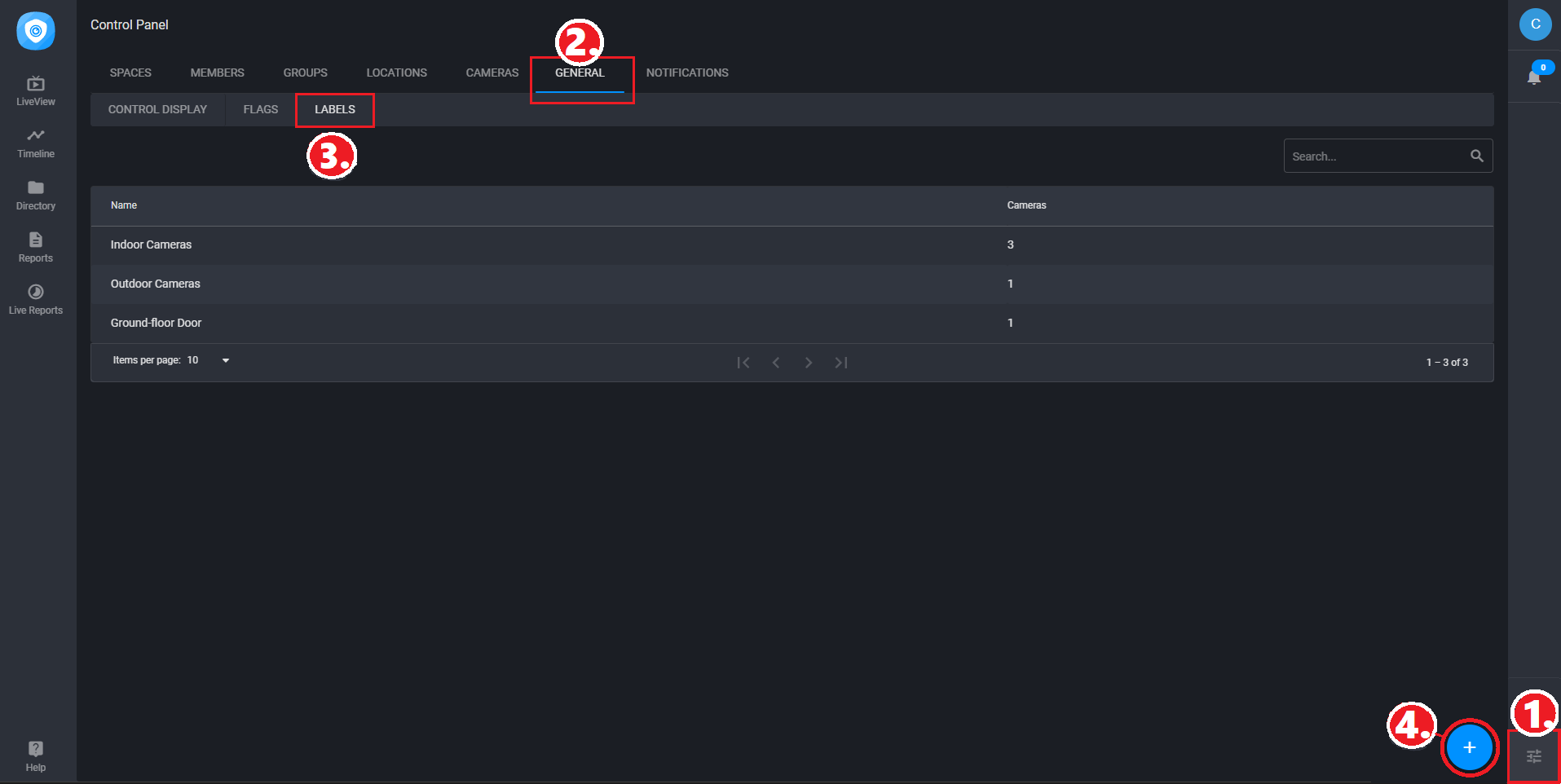 Figure 1 – Labels section in Control Panel
Step 1: Create a new Label
In the first step of creating a label, enter the name for your label and provide an optional description. Proceed to Step 2 by clicking the "Next" button located in the bottom right corner (see Figure 1).
Please note that the description is optional, but it can provide additional context or information about the label.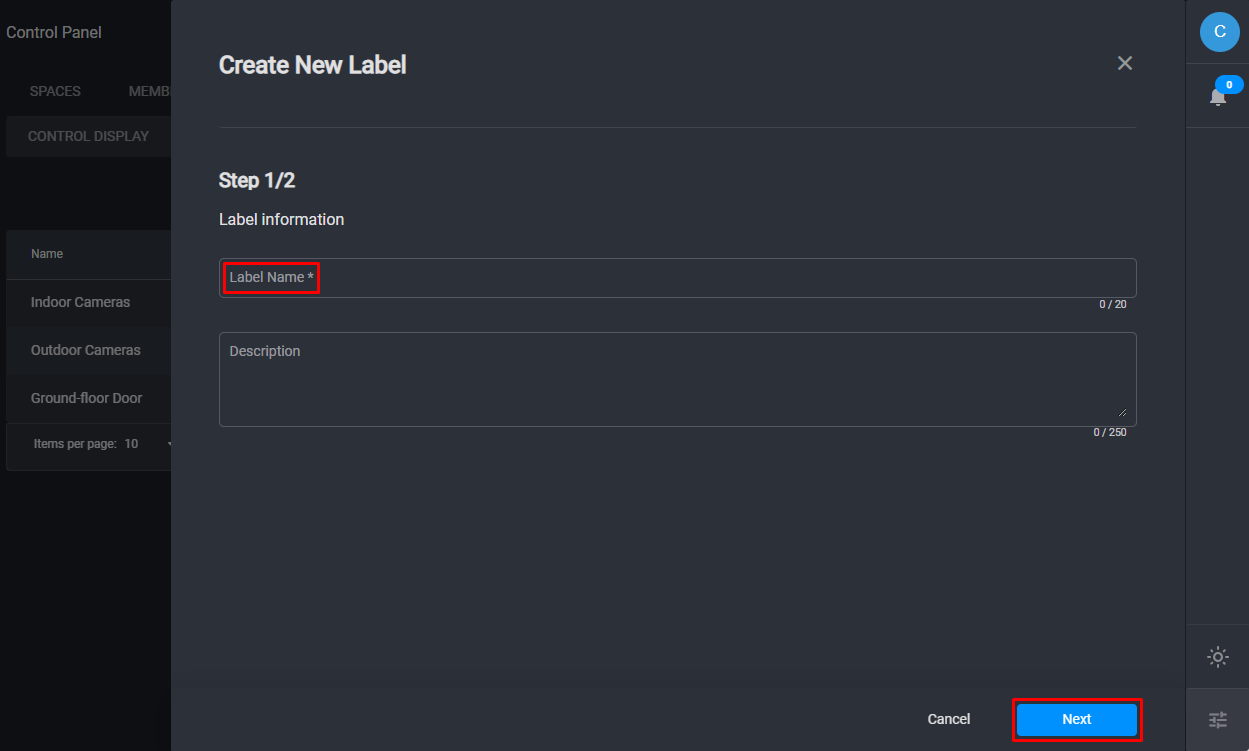 Figure 2 – Create New Label 1/2
Step 2: Camera selection for Labels
In the second step of creating a label, you will be selecting the cameras to be associated with the label. Follow these steps:
Check✅ the checkboxes next to the cameras you want to select.
Once you have selected the desired cameras, click the "Create" button to complete the label creation process.
You can use the search bar or filter options to easily locate and select the cameras you want to include in the label.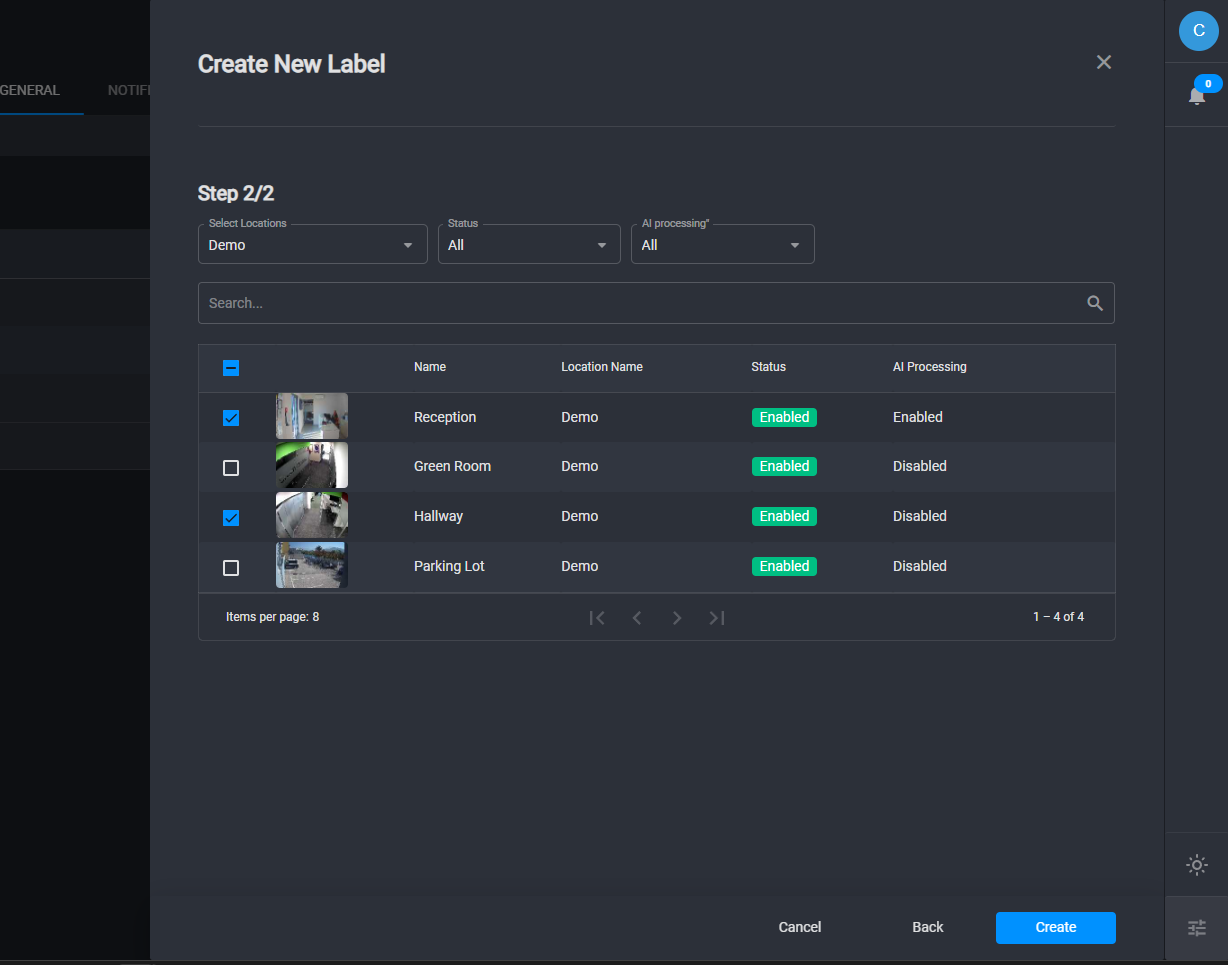 Figure 3 – Create New Label 2/2
Managing Labels in Vision VMS
Label management in Vision VMS is an ongoing process. You may need to create new labels, modify existing ones, or delete obsolete labels as your security needs change. Vision VMS's user-friendly interface simplifies this process, ensuring quick adaptation to evolving security needs.
In summary, labels in Vision VMS are a powerful resource for categorizing and tracking cameras. By creating and managing labels, you can boost your security monitoring capabilities and streamline your operations.